Poesi på en torsdag er et lyrikarrangement, hvor publikum i Holstebro, og fra andre steder, kan møde dansk eller udenlandsk poesi live. Tre gange i foråret – februar, marts, april – og tre gange i efteråret – september, oktober, november – hver gang den første torsdag i måneden – inviteres en dansk – eller udenlandsk – digter til oplæsning af egne digte på Poesi på en torsdag.
I forbindelse med oplæsningen finder en række andre aktiviteter sted. Der er oplæsning af Månedens digt, optræden med Odin Teatrets Husorkester og andre orkestre og musikere, salg af danske digtsamlinger til poetisk favorable priser, oplæsning af Omar Khajjâms Rubâijât på farsi og andre sprog, oplæsning af kendt holstebroers yndlingsdigte, det lyriske essay om aftenens digter og ikke mindst udskænkning af månedens vin.
Poesi på en torsdag foregår på Knudsens, en nyrestaureret teatersal på gågaden midt i Holstebro. Arrangementet flyttes i få tilfælde til en anden adresse i Holstebro.
Arrangører
Poesi på en torsdag er arrangeret af Holstebro Kunstmuseum, Holstebro Gymnasium og HF, Holstebro Bibliotek, Musikteatret Holstebro, Lemvig Boghandel, Uddannelsescenter Holstebro og Odin Teatret. Arrangementet er støttet af Holstebro Kommune og Statens Kunstfond.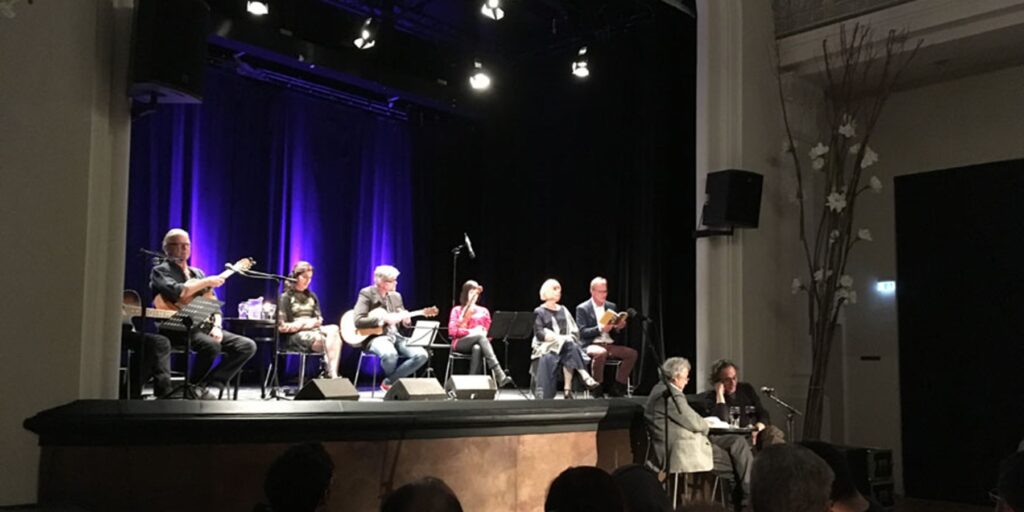 Poetry on a Thursday
Poetry on a Thursday is a regular evening event in Holstebro which allows people the opportunity to meet contemporary Danish poets. These evenings, at which the invited poet reads his or her own poems, happen three times in the spring – February, March and April – and three times in the autumn – September, October and November – on the first Thursday of the month in question.
This event involves also activities such as musical interludes by Odin Teatret's House Orchestra as well as other musicians and orchestras, the reading of the winning poem from the Poem of the Month competition, readings from The Rubâijât by Omar Khajjâm in Farsi and other languages, the reading of a favourite poem by a well-known Holstebro personality, an essay about the poet of the evening, the sale of books of poetry and, last but not least, the serving of the Wine of the Month to the audience.
Poetry on a Thursday usually takes place at the newly restored Knudsen's theatre on Holstebro's central pedestrian precinct. It is organised by Holstebro Kunstmuseum (Museum of Art), Odin Teatret, Holstebro Gymnasium and HF (High School), Holstebro Bibliotek (library), Holstebro Musikteatret, Lemvig Boghandel, Holstebro Education Centre. It enjoys the support of the Municipality of Holstebro and the Danish Arts Council and Literature Centre.