20th of May 2023 National Theatre of Budapest, Hungary
ISTA/NG Theatrum Mundi Ensemble – Theatre Olympics 2023
Anastasis (Resurrection) – 10th Theatre Olympics (szinhaz.org)
Composed and directed by Eugenio Barba
Anástasis depicts Life's different phases and realities from birth to death and again re-birth in the world of nature, animals and humans. Anástasis is a hymn to the power of Life and an homage to the performer's art with its splendour of styles and expressions. It is enacted by performers from different countries and traditions: Japanese Noh, Chinese Nanguan Opera, Balinese Topeng, Indian Baul and Kathakali, Brazilian Cavalo Marinho and Bumba Meu Boi, Flamenco and western contemporary styles.
Synopsis
Welcoming the spectators
Two clowns, Mr. Peanut and the Balinese Penasar, lead the spectators to their places.
A Transylvanian song in darkness.
Presentation of the performance
Two storytellers, an Indian Baul and a Brazilian folk singer, inform the spectators about the events to happen.
A Japanese woman admires the beauty of the landscape, while Death looms.
A father (Pulcinella), a mother (Nanguan Opera) and a Brazilian child (Cavalo Marinho) play in the intimacy of domestic life.
The Baul storyteller shows the greed of an old man (Balinese Topeng).
A group of joyful people celebrates the vitality of a bull.
The Brazilian singer and a Hungarian traditional dancer display their virtuosity.
The bull is killed, while the family admires the landscape.
People are hungry…
Two clowns (Bali and Brazil) find the dead bull and carry it out to have a good meal.
… and rich people dance
An elegant couple on stilts waltzes to Johann Strauss' music.
The boy's funeral
The parents mourn the dead son.
The face of darkness
An Indian Kathakali demon attempts to annihilate the child's corpse.
The transformation of Death into Life
The bull and the child resurrect and the performance ends with Death becoming Life, among the actors singing a traditional Hungarian song ("By the river of Tisza under an almond tree / two lovers embrace each other").
On stage: Keiin Yoshimura (Japan); I Wayan Bawa (Bali); Parvathy Baul (India); Yalan Lin (Taiwan); Alício Amaral, Juliana Pardo, Rodrigo Lopes dos Reis, Matheus de Aquino (Cia. Mundu Rodá, Brazil); Caterina Scotti, Alessandro Rigoletti, Ricardo Gomes (Teatro tascabile di Bergamo, Italy); Julia Varley, Jakob Nielsen, Antonia Cezara Cioaza (Odin Teatret, Denmark); István Berecz, Ibolya Páli (Hungary); Lorenzo Gleijeses (Teatro di Roma, Italy) and Rocío Susana Antero-Cabrera Vites (Peru), Javier Arboleya Rodríguez (Spain), Taylor Ayling (UK), Aurora Bolaffi (Brazil), Viviana Bovino (Italy), Eugenia Cano (Mexico), Benedek Csonka (Hungary), Mark Diaz (USA), Anna Viktória Dömötör (Hungary), Federico Fanella (Italy), Natalia Georgosopoulu (Greece), Daniel Ginebroza (Spain), Gaia Diana Dalia Gulizia (Italy), Sarimé Álvarez Hernández (Cuba/Mexico), Cecilia Hopkins (Argentina), Asmaa Houri (Morocco), Fanis Katechos (Greece), Dominika Laster (Poland/USA), Denis Lavie (France/Spain), Bojan Lazarov (Macedonia), Attila Lestyán (Hungary), So Young Lim (South Korea), Leonardo Mancini (Italy), Ana Patricia Marioli (Argentina/Germany), Natasha Mirny (USA), Pál Nyáry (Hungary),Lorenzo Ortis Gallo (Italy),Zsófia Pálfi (Hungary), Réka Pável (Hungary), Mirla Pereira (Cuba/USA), Darinka Pilári (Hungary), Ivana Milenović Popović (Serbia), Gisella Rotiroti (Italy), Cecilia Ruiz (Argentina), Karina Russa (Hungary/Venezuela), Natalya Rybalkina (Ukraine), Leo Schmukler (Argentina), Eirini Sfyri (Greece/Spain), Anna Somogyi (Hungary), Hal-Jun Sung (Taiwan), Nadine Szakács (Hungary), Natalia Tesone (Argentina), Renee Torres (Venezuela), Mérida Urquía (Cuba/Colombia), Alexis Vandist (Belgium), Kengip Wong (China), Gyan Ros Zimmermann (Ecuador/Chile)
Musicians: So Sugiura (Japan), Gregorio Amicuzi (Italy), Rachid Bromi (Morocco), Linda Cunningham (Ireland), László Lukács (Hungary), Annada Prasanna Pattanaik (India), Rina Skeel (Denmark)
Soundscape: Mirto Baliani (Italy)
Digital scenography and light design: Stefano Di Buduo (Italy-Germany)
Technical assistance: Manolo Muoio (Italy)
Film documentation: Claudio Coloberti (Italy)
Programme text: Leonardo Mancini
Assistants: Gregorio Amicuzi (Italy/Spain), Viviana Bovino (Italy/Spain), Antonia Cezara Cioaza (Romania/Denmark), Ricardo Gomes (Brazil), Leonardo Mancini (Italy), Jakob Nielsen (Denmark), Francesca Romana Rietti (Italy)
Director assistants: Rina Skeel (Denmark-Argentina), Julia Varley (Denmark-Italy), Ana Woolf (Argentina)
Composed and directed by: Eugenio Barba
In collaboration with Teatro di Roma
Photos Stefano Di Buduo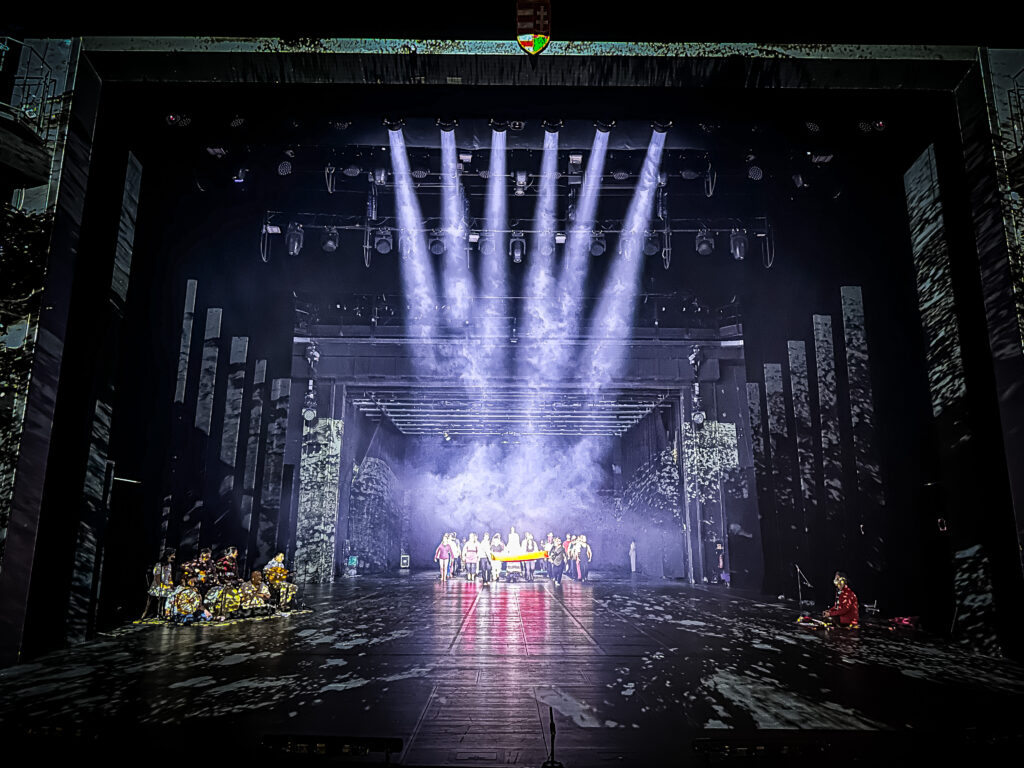 PHOTOS FROM FRANCESCO GALLI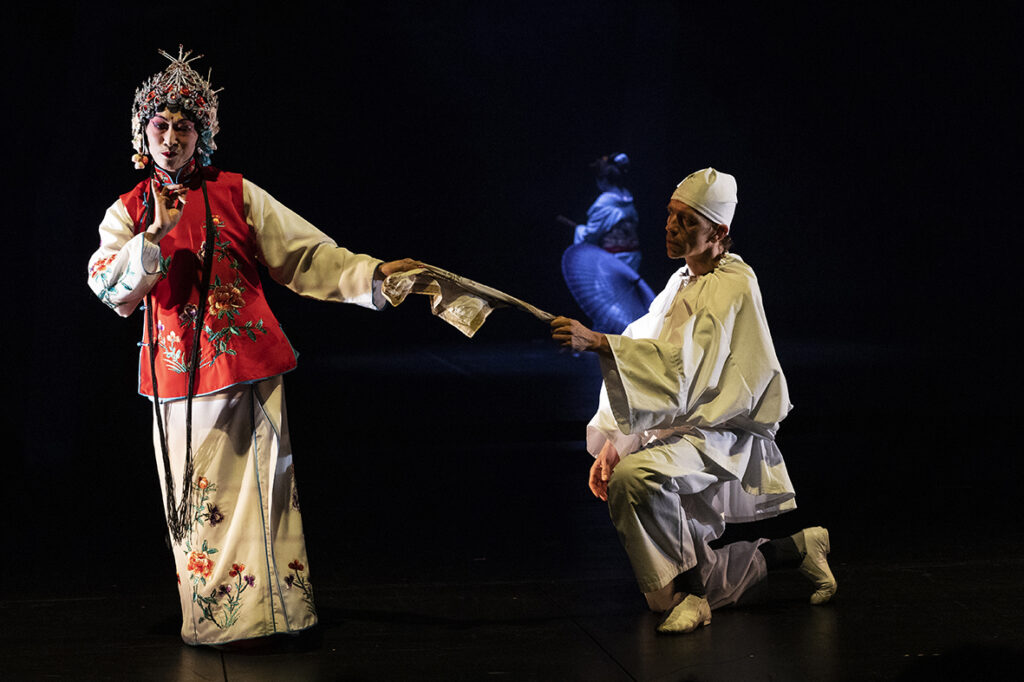 Working on the scenography and light design of ANASTASIS
(Photos: Rina Skeel)